Cooling Gel Sheets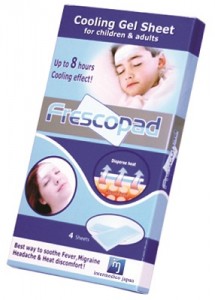 BEST WAY TO SOOTHE FEVER, HEADACHE, TOOTHACHE & HEAT DISCOMFORT!
FRESCOPAD™ cooling gel sheets are becoming very popular as an analgesic providing cooling relief via a patch that can be positioned against most areas of the body, but is largely used on the forehead.
They are also recommended by doctors for:
Children suffering from high temperatures / fevers.
Adults suffering from severe headaches and migraines.
Children and adults suffering from toothache.
Those overheated days and nights of summer.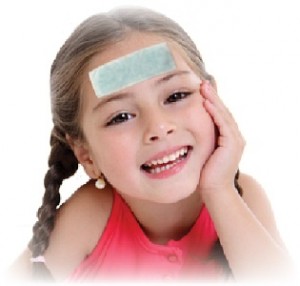 FRESCOPAD™ cooling gel sheet is easy to apply and remove and does not leave any residue.
Constant effect of cooling relief.
Soft, flexible and stays comfortably in place.
Strong adhesive power.
Safe for use with medication.
They need no refrigeration and are portable.
Extremely safe with both children and adult users.
Use FRESCOPAD™ cooling gel sheet wherever and whenever you need it most.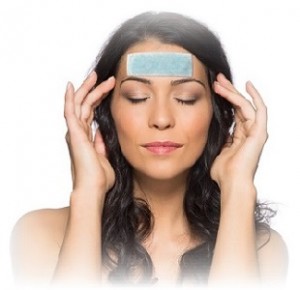 FRESCOPAD™ cooling gel sheets offers the following advantages over current cooling gel sheets incumbents:
An extended 8 hours life despite being one of the lightest, easiest and thinnest to wear products available.
A refreshing mint scent that is particlularly popular with children.
Easy application in a market where removing backing sheets is often a problem.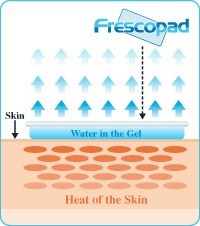 FRESCOPAD™ cooling gel sheets contains a high percentage of water which works with the bodies natural cooling system helping to cool the body. As the temperature rises the heat of the skin causes the evaporation of water contained within cooling gel sheet which creates a cooling sensation on the surface of the skin.
The heat of the skin causes the evaporation of water contained within the gel and as a result lowers temperature of the skin.
The excellent heat transfer ability is made possible by the gels unique structure which disperses heat freely and maintains a constant and steady cooling effect that lasts up to 8 hours.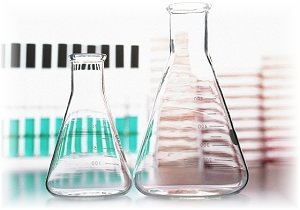 Water, Glycerine, Sodium Polyacrylate, Poluacrylic Acid, Cellulose Gum, Ricinus Communis (Castor) Seed Oil, Tartaric Acid, Polyvinyl Alcohol, Disodium EDTA, Magnesium Aluminum Silicate, Menthol, Ethylparaben, Titanium Dioxide, Butylparaben, Blue 1.